My Yoga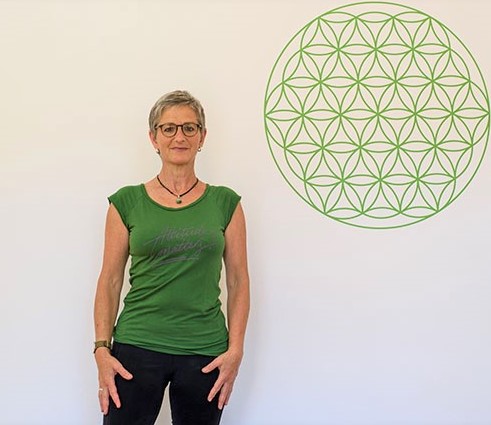 My yoga is based on my Svastha Yogatherapy teacher training with Dr. Günter Niessen and Dr. Ganesh Mohan as well as on my Viryayoga and Yin Yoga trainings. I no longer teach a particular yoga style. I let me inspire by all the teachers I meet on my yoga journey and integrate everything I like into my own teaching.
From my Svastha yoga education I integrate into my lessons the focus on a health-promoting practice of asanas, mindfulness and the emphasis on breathing during yoga practice. My wish is that my yoga supports people on their way to holistic health.
Virya Yoga is a holistic, more or less dynamically practiced, form of yoga which promoted health. In systematically composed yoga series, you will discover a strengthening yoga programme which gets the energy in our system to flow.
Yin Yoga is a calm and meditative form of yoga in which the yoga positions are held over a longer period of time with relaxed muscles while the breath flows freely. We come to rest, let go of tension and get in touch with our inner being.
I see yoga as a dialog with the body, breath and mind. Practiced mindfully and in the rhythm of the breath, yoga releases tension and strengthens and relaxes body and mind. By consciously arriving in the present moment, the mind gets clear and we experience peace of mind.
"Breathing in, I calm my body.
Breathing out, I smile.
Dwelling in the present moment,
I know this is a wonderful moment." Thich Nhat Hanh
For me, yoga is more than a physical practice. I always relate to yoga philosophy or elements from Buddhism. Through my yoga, I want to provide a tool that helps us master life's challenges more easily and skilfully.
I teach all kinds of classes; however, my yoga always includes all kinds of postures; back bends follow forward folds, twists, side bends, standing and balancing postures alternate. In the more dynamic classes, we also practice sun salutations. Breathing and mindfulness exercises as well as meditations are also part of my lessons.
Some of my classes are physically challenging and dynamic, others tend to be gentle and slow, in some classes, both elements can be found. Under "Group lessons", you'll find more information about my classes. In all my classes, I always adjust my teaching to the target group and, as far as possible in group lessons, adapt it to individual needs.
"The success of Yoga does not lie in the ability to perform postures but in how it positively changes the way we live our life and our relationships" T.K.V. Desikachar